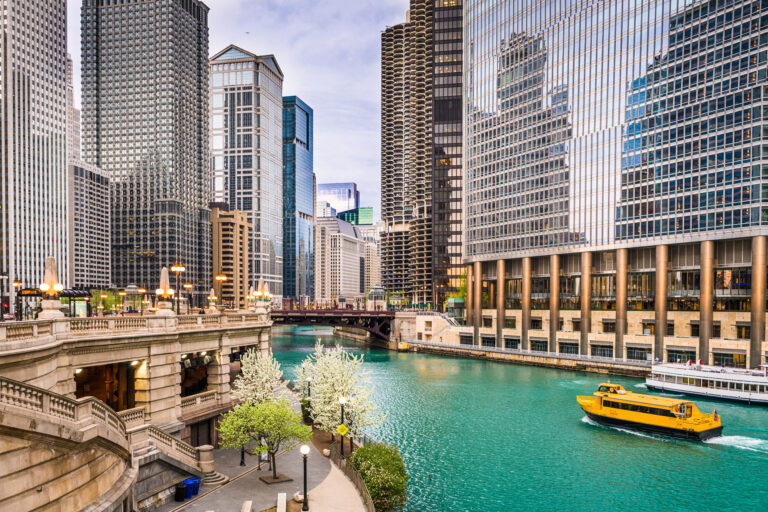 TSAG Market Analysis: Chicago
By: The Storage Acquisition Group
Statistically, the Chicago area sure looks like a desirable self-storage market for developers, investors, and owners alike.
The Chicago metropolitan region has one of the largest and most diverse populations in the nation. It has one of the lowest self-storage penetration rates. Its demographics are generally excellent, particularly its suburbs, with high median household incomes.
But all is not well in Chicagoland.
"We're not touching anything new there with a ten-foot pole," says Bob Soudan, a partner at Lock Up Self Storage, the Northfield, Illinois-based owner, and manager of about 45 self-storage facilities in eight states around the country, seven of them in Chicago and 12 in the city's suburbs
The problem: High property taxes in Cook County – mixed with burdensome zoning and building regulations that many say stifle new construction, conversions, or expansions of current facilities.
How high are Cook County's property taxes? Nearly quadruple the rates in Florida, where Lock Up Storage also does business, Soudan says.
Property taxes aren't as high in non-Cook County suburbs. But they're still high by national standards. Indeed, all of Illinois is considered the second least "tax-friendly" state in the nation due to its high taxes, according to a recent report by Kiplinger.
Not everyone feels as strongly as Soudan. They say every market has its challenges – and savvy investors just have to be more be careful in the general Chicago metropolitan area.
Back to the statistics. Yes, the Chicago area is indeed seemingly attractive.
The Chicago/Naperville/Elgin area's self-storage penetration rate, or the square footage of self-storage space per capita, is only 4.7, well below the national average of 5.8 and considered an attractive figure for those considering building or buying in the area, according to data from Radius Plus, the research arm of Union Realtime.
The Chicago area also hasn't experienced a tremendous building boom in recent years, with only an 8.5 percent increase in overall supplies over the past three years, according to Radius Plus.
Prices in the region remained remarkably steady in the immediate years prior to last year's onset of the pandemic, which caused wild fluctuations in prices across the county in 2020, including in the Chicago area. Nationally, prices shot up late last year due to the increased demand for self-storage space caused by the economic downturn.
In the months leading up to the pandemic, prices for 10-foot-by-10-foot, climate-controlled units in the Chicago area were going for about $100. This past winter, prices were hovering in the $137 range, according to Radius Plus.
Meanwhile, the occupancy rate for Chicago-area facilities owned and/or managed by major REITs is currently hovering around 95 percent, according to Radius Plus data.
But some of those solid statistics also raise questions. Why hasn't there been a building boom in Chicago? Why are some owners and investors, though certainly not all, down on the Chicago market?
There seems to be an almost love-hate relationship going on in Chicagoland – and it all comes down to taxes and regulations.
"On the surface, there should be a lot of good development opportunities in the Chicago area, especially in the outer suburbs," says David Spencer, a vice president and senior advisor at The Storage Acquisition Group. "But the Chicago area is facing challenges – challenges that you may not experience in other markets that offer the same or better upside. The tax burden, in particular, can really complicate the financials on projects in Cook County"
Cory Sylvester, a principal at Radius Plus, agrees that there's a sense the Chicago market is underperforming – when it could be, and should be, performing much better, at least based on the statistics.
"There's a lot of stagnation in the market," says Sylvester, noting the region's population growth has also fallen in recent years. "The high property taxes create vulnerabilities for businesses."
As the data shows, there has been construction in the Chicago area, mostly in the outer suburbs – and it has led to some pricing pressures. Like in other areas of the nation, construction in the Chicago area has slowed considerably since the pandemic – and today facilities currently under construction would only add about 1 percent to the Chicago area's overall supply of 44.8 million square feet of self-storage space.
In the suburbs, there seems to be a healthy amount of competition among REITs, mid-size and small self-storage operators, industry officials agree.
The Storage Acquisition Group's Spencer warned that people shouldn't get too pessimistic about the metropolitan Chicago area.
"It's a massive, massive market, both regionally and nationally," he said. "There are a lot of good opportunities there. But you have to look for them carefully. There are excellent opportunities if you do the research."
Greater Chicago at a Glance
| | |
| --- | --- |
| Number of Facilities | 891 |
| Total Self-Storage | 44.7M Square Feet |
| 3 Year Growth in Supply | 8.5% |
| Population | 9.5M |
| Penetration Rate | 4.7 |
| Median Household Income | $74,292 |
  Note: Data from Radius+
---

The Storage Acquisition Group specializes in purchasing storage facilities and portfolios nationwide. Uniquely, we allow owners to sell direct without having to list their facility. With our 4-tiered approach, Market Analysis, Acquisitions, Underwriting, & Closing Support, The Storage Acquisition Group is able to help owners navigate a simple sales process while netting the highest possible profit.