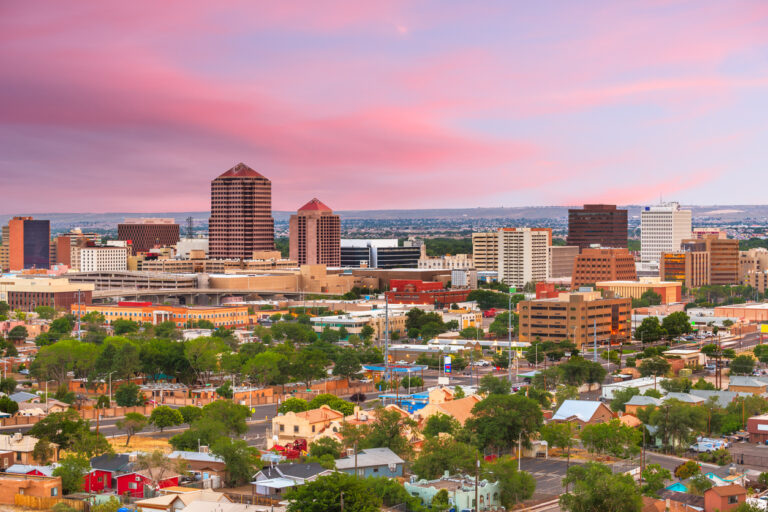 TSAG Market Analysis: Albuquerque
By: The Storage Acquisition Group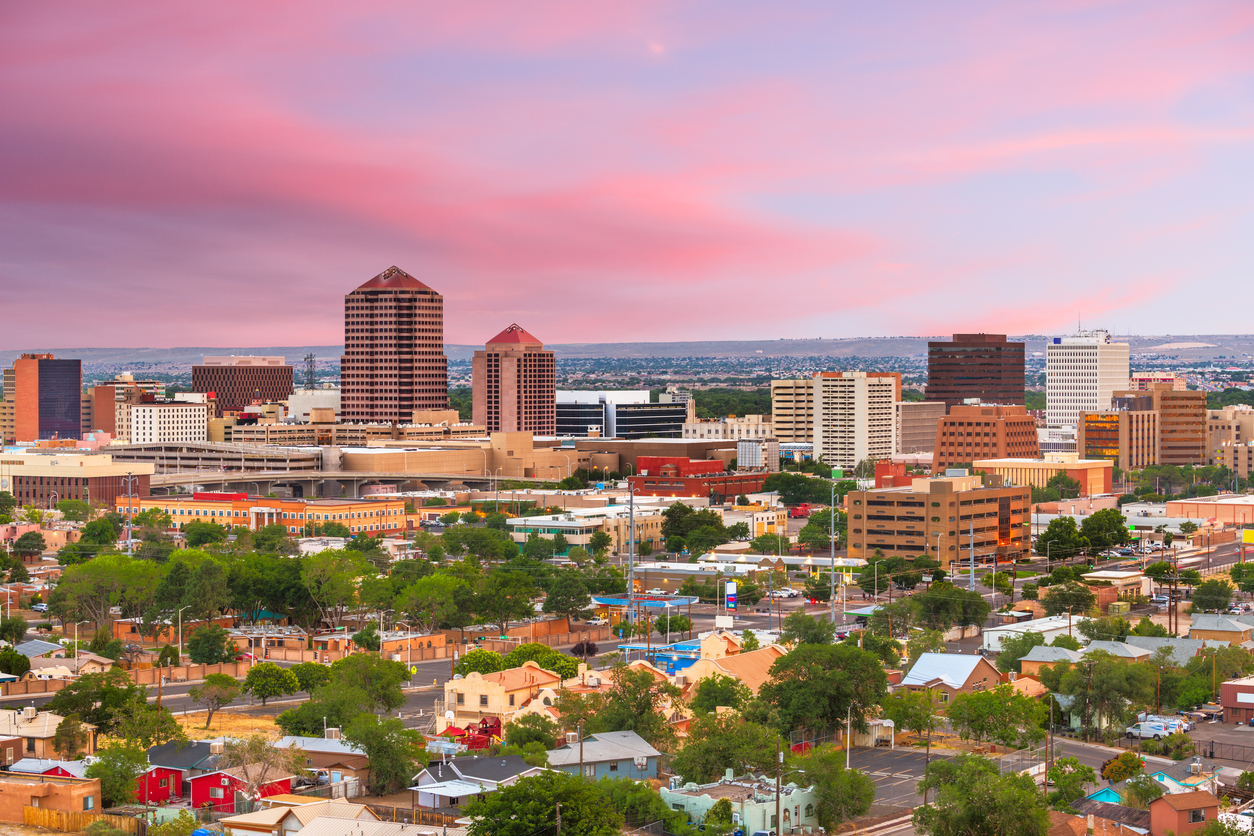 New Mexico isn't the brightest of the Sunbelt states when it comes to self-storage, but it's bright enough for current owners and investors who like their future prospects in Albuquerque and other growth areas in the state.
There's no doubt New Mexico isn't experiencing the population boom as seen in nearby Texas to the east (8.9 percent, from 2010 to 2020), Arizona to the west (11.9 percent), and Colorado to the north (14.8 percent).
By contrast, New Mexico's population increased by only 2.8 percent from 2010 to 2020. And the growth in Albuquerque, the state's largest city at 915,000 people, increased by only 1.67 percent during the same time period, according to the U.S. Census.
Many believe the slower growth, at least compared to other Sunbelt states, is attributed to an "economic malaise" that's kept the state's unemployment rate high in recent years. New Mexico's jobless rate was 8.3 percent in April, above the national average of 6.1 percent
So why are people still encouraged about the state and Albuquerque's self-storage prospects?
Precisely because they're both considered relatively stable and steady markets whose long-term attractiveness remains strong as long as Americans keep flocking to Sunbelt states in general.
"We're not a high-growth market like other nearby states, but we're still growing and there are great opportunities here," says Brian Patterson, vice president of development at Titan Development, an Albuquerque-based commercial real estate developer that's built four self-storage facilities in New Mexico in recent years.
"You can find micro-markets here that are underserved," he said. "New Mexico has been good to us."
In many ways, New Mexico – and specifically Albuquerque and its immediate surrounding area – defy normal self-storage industry logic.
The Albuquerque metropolitan area has seen solid, though not hyper-active, new construction in recent years – with a total supply of self-storage space increasing by 9 percent since 2017, according to data from Radius Plus, the research arm of Union Realtime.
Meanwhile, the region's self-storage penetration rate, or the amount of self-storage feet per capita, remains at a high of 8.1 percent, well above the national rate of about 6.
And yet Albuquerque's prices have remained relatively strong over the years – and were hovering in May in the $175-per-month range for 10'-by-10' climate-controlled units, according to Radius Plus data. Occupancy levels have remained above 90 percent.
The city of Santa Fe, the state's scenic capital located northeast of Albuquerque, is seeing even stronger self-storage prices, ranging in the monthly $225 range, despite somewhat active new construction in recent years. Occupancy levels are also strong in Santa Fe.
"It just goes to show how self-storage is really a market-by-market phenomenon when it comes to performance," Cory Sylvester, a principal at Radius Plus, says of the seemingly contradictory self-storage data tied to New Mexico in general and Albuquerque in particular.
"Overall, Albuquerque is not a dynamic market, but it's stable," Sylvester adds. "It hasn't seen insane amounts of new supply. Generally speaking, it's a pretty good market."
Monty Spencer, president, and CEO of The Storage Acquisition Group says Albuquerque is just like any other self-storage market across the country in one important regard.
"If you do your research thoroughly and carefully, the opportunities are there in Albuquerque and elsewhere in New Mexico," he says. "It's important to find the underserved areas within all markets. You just have to look."
Spencer adds: "Albuquerque has caught the same ride that many of the other self-storage markets have over the past few years and has been buoyed by the pandemic with more people working from home."
Forrest Thomas, president of Thomas Properties, owner of five self-storage facilities in New Mexico – one in Albuquerque, three in Santa Fe, and one in Roswell – agrees with others that New Mexico, in general, is "not a prime market" compared to other fast-growing Sunbelt states.
But it's still growing – and both Albuquerque and Santa Fe have seen "quite a few" new facilities built in recent years. Despite the new supply of self-storage, prices have remained relatively strong, Thomas says.
Though Albuquerque is considered a secondary market, large industry players and real estate investment trusts, such as Extra Space, have moved into the market in recent years, though not so much in the smaller market Santa Fe, according to industry officials.
What's preventing Albuquerque from becoming a hotter region in terms of population growth and thus self-storage growth? The answer, most agree, is the economy. The state simply needs more dynamic employers that produce jobs attractive to younger people, industry officials say.
To be clear: the state has its respected University of New Mexico –as well as the federal government's Sandia National Laboratories, Los Alamos National Laboratory, and the Air Force Research Laboratory. Netflix also recently announced it will boost its presence in the state by expanding its ABQ Studios in Albuquerque's Mesa Del Sol area and committing to an additional $1 billion in production spending, according to recently published reports.
But most agree the state needs more major employers — and their accompanying jobs — to start growing at a faster clip.
Dean Alexis, a member of the New Mexico Self-Storage Association and owner of two self-storage facilities in Santa Fe, said the state has been "mired in semi-economic malaise" for a while now. "We're certainly better than California, but not as good as Texas," he said of the state's economic performance of late.
Still, Ryan Goodman, a partner at Around the Corner Self-Storage and a member of the New Mexico Self-Storage Association, says he's upbeat moving forward. "It's a good market that I think will grow," he said. "I'm optimistic."
Greater Albuquerque at a glance
| | |
| --- | --- |
| Number of Facilities | 187 |
| Total Self-Storage | 9.4M Square Feet |
| Population | 910,000 |
| Penetration Rate | 8.1 |
| Median Household Income | $55,383 |
| No. of Facilities in Dev. Pipeline | 9 |
  Note: Data from Radius+
---

The Storage Acquisition Group specializes in purchasing storage facilities and portfolios nationwide. Uniquely, we allow owners to sell direct without having to list their facility. With our 4-tiered approach, Market Analysis, Acquisitions, Underwriting, & Closing Support, The Storage Acquisition Group is able to help owners navigate a simple sales process while netting the highest possible profit.