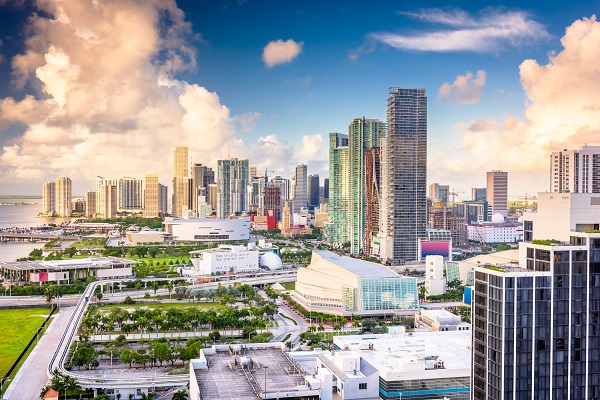 TSAG Market Analysis: South Florida-Maimi
By: The Storage Acquisition Group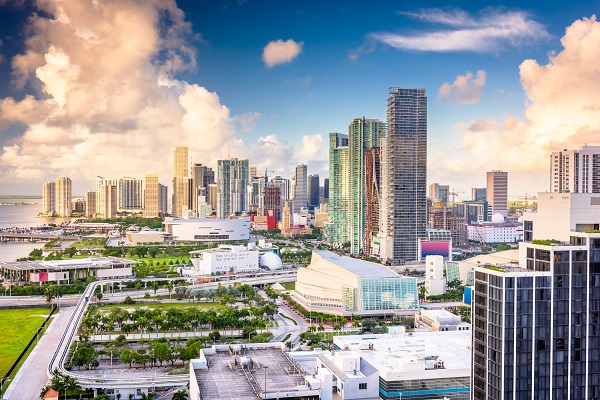 Miami is holding its own despite building boom and economic storm clouds.
Despite a surge in new supplies over the past three years, the Miami-area self- storage market is considered in relatively good shape to withstand tough economic times ahead for Florida and the nation as a whole, according to industry data and experts.
There's no doubt that Greater Miami, which includes Miami, Fort Lauderdale, and West Palm Beach in the tri-county area of southeast Florida, has seen its share of new self-storage supplies, rising just over 5 percent last year and by 15.8 percent over the past three years, according to Radius+ data.
"That's a significant amount of new supply over three years," says Cory Sylvester, a principal at Radius+.
Not surprisingly, the surge in supply has led to price pressures in southeast Florida, with prices for climate-controlled units falling about 20 percent over the past year, according to data. Prices for non-climate controlled units fell by just over 12% for the same time period.
And more supplies are on the way for Greater Miami, with new self-storage facilities currently under construction expected to add about 8 percent more space to the area. If all tentatively planned facilities are included, Greater Miami's supply could theoretically increase by 18.6 percent to 42.2 million square feet in the coming years, according to data.
Those supply projections are slightly higher than the national average estimate of around 3.3 percent growth of under-construction facilities and nearly 10 percent growth when planned and permitted facilities are included, according to Radius+ data.
But even with slightly higher supply numbers in the tri-county area, many Greater Miami self-storage players and industry observers are still bullish on the region for a number of reasons.
First, they point to the fact that Miami, the nation's seventh-largest metropolitan area, is faring better than many other major markets across the nation in terms of supply. Over the past three years, Miami ranks 12th in supply growth, compared to No. 1 Denver's 27.6 percent growth, according to Radius + data.
In addition, Greater Miami was in a better position to absorb more self-storage facilities at the start of the past decade's nationwide building boom. Even after the surge in new facilities, Greater Miami's self-storage penetration rate today is hovering at about 6 net rentable square feet per person, roughly in line with the national average of about 6, according to Radius+.
In addition, Miami's lease-up period for new facilities remains about 3 to 4 years, roughly the national average and considerably lower than the up to 5 years it can take to fully lease new facilities in other hot markets, industry officials say.
There's one other thing in Greater Miami's favor: Earlier this year, Miami's planning board passed a ban on construction of new self-storage facilities near mixed-use residential areas and a 270-day moratorium on any new storage facilities in general.
While no one in the industry likes anti-self-storage sentiments in general, the fact is that new restrictions on construction and conversions help existing self-storage owners by limiting the introduction of new facilities into the market, officials say.
The bottom line: Greater Miami, whose population is still growing (although slower than in past decades), is in a better position to prosper moving forward than many other major markets in the nation.
"In the long-term, Miami is in good shape," said Brian Cohen, president of Andover Properties LLC, developer, owner and operator of 41 facilities in 12 states, most of them along the East Coast, with one facility in Miami and one in Fort Lauderdale.
Confirming what others are seeing, Cohen said the occupancy rate in its Miami-area facilities has remained in the 90 percent range, despite new supplies coming on line, with absorption "going pretty well," despite competitive price pressures.
Scott McLaughlin, executive vice president of Sentry Self Storage Management, which operates two facilities in Miami, said Miami got hit hard by a recent surge in new construction "But it's not necessarily an oversupply problem," he said. "It's been an all-delivered-at-one-time problem."
He noted that Extra Space, a large real estate investment trust, recently opened a new 75,000-square-foot facility only three blocks away from a 50,000-square-foot Sentry facility in Miami, creating price pressures.
But he said occupancy nevertheless held steady at his facility, indicating demand is still strong in Miami. McLaughlin attributed some of the strong demand in Miami to new multifamily housing projects being built in the city, providing additional potential customers for self-storage operators
As for the new self-storage building restrictions in Miami, it can only help existing owners, said McLaughlin. "If it slows up development for a year or so, that's a year in which we can absorb what's coming on line," he said.
But what about the coronavirus emergency and the subsequent economic downturn caused by stay-at-home policies across the U.S.?
Industry officials say they've noticed additional price pressure in Miami, as well as in other cities. But they say the self-storage industry, often described as a "counter-cyclical" and "recession-resistant" industry, should be able to hold its own during the current national economic downturn.
Interested in receiving more Market Analysis Reports from TSAG?  Call our office and be connected with one of our advisors or click here to sign up.
---

The Storage Acquisition Group specializes in purchasing storage facilities and portfolios nationwide. Uniquely, we allow owners to sell direct without having to list their facility. With our 4-tiered approach, Market Analysis, Acquisitions, Underwriting, & Closing Support, The Storage Acquisition Group is able to help owners navigate a simple sales process while netting the highest possible profit.