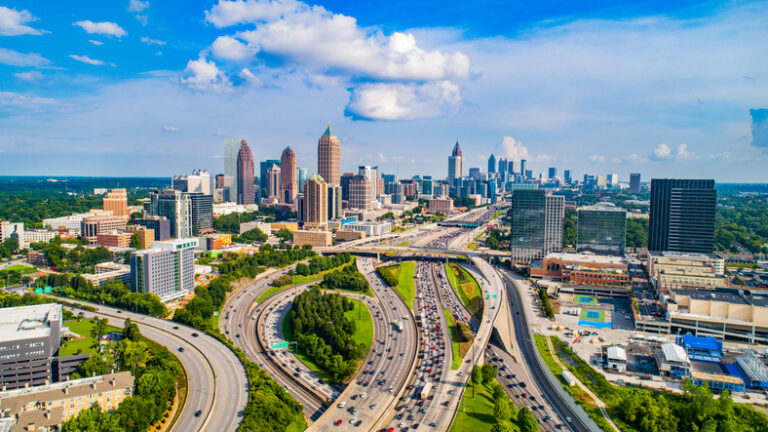 TSAG Market Analysis: Atlanta
By: The Storage Acquisition Group
Atlanta's self-storage market is expected to rebound just nicely, thank you
It may take a few more years for self-storage prices to stabilize in the Atlanta area due to recent overbuilding and rate hits caused by a mini-price war during the early stages of the coronavirus outbreak, industry officials say.
Still, industry experts remain bullish on the Atlanta market long-term, saying the region's population and economy are expected to grow in the coming years and create yet more demand for self-storage facilities.
"It's a very solid market long-term," says Cory Sylvester, a principal at Radius+ the data analytics and research firm that closely tracks self-storage across the nation. "Atlanta will rebound."
Industry officials are optimistic about Atlanta's future for the very same reasons that caused its current problems in the first place: It's a hot metropolitan area that self-storage operators and developers want to mine to its fullest.
And mine it, they have, in recent years to the tune of a 14 percent increase in the region's supply of self-storage space over the past three years, bringing the Atlanta market's total self-storage supply to about 41 million square feet, according to Radius+ data.
Not surprisingly, the supply spike has led to price pressures, causing rates for 10-foot-by-10-foot climate-controlled units to fall from the $130 range in the winter of 2019 to the $110 to $115 range this past winter, before the COVID-19 crisis hit across the country, according to Radius + data. The coronavirus outbreak – and subsequent economic downturn – knocked another $5 to $10 off of individual unit rentals in the Atlanta market, data suggests.
"It was a double whammy," Calvin Byrd, CFO of Byrd's Mini Storage in Dawsonville, Georgia, about an hour north of Atlanta, said of both supply and pandemic price pressures. "Some areas of the region have been harder hit than others."
Byrd, who is president of the Georgia Self-Storage Association and whose company owns 12 facilities in Georgia, stressed that the oversupply problem is limited to certain areas of the Atlanta region, not all areas.
For instance, a handful of new self-storage facilities have popped up near one of his firm's centers, causing prices to fall in recent years, Byrd said.
And the new rivals were not national real estate investment trusts (REITs), but rather local competitors trying to take advantage of the investment popularity of self-storage facilities in recent years, Byrd said.
"Most of them are first-time builders," Byrd said. "They're attracted to the (industry's) positive vibes and low-interest rates."
Raj Sheth, CEO of Boardwalk Storage, owner of eight facilities in Georgia, agrees that oversupply problems and subsequent price pressures all depend on where you are in the Atlanta area.
In and around the city of Cumming, just north of Atlanta, five new self-storage facilities have opened over the past four years alone, driving down monthly prices from as high as $160 to as low as $70, Sheth said.
"And that's just one example," Sheth said. "It's all tied to overbuilding. It's a pattern you see in other cities. In some ways, it's a bit like the oil industry, where the prices get to a certain high point, then the frackers come out. The same thing happens in self-storage."
But the surprising thing about Atlanta is that it's penetration rate – or the number of self-storage square feet per capita – is not completely out of whack with the rest of the nation.
According to market data, Atlanta's penetration rate is just over 8 square feet per capita, compared to the national average of about 7 square feet per capita.
Meanwhile, Atlanta's 7.5 percent projected growth in supplies – counting both under-construction and planned facilities — is in approximate line with national supply-growth rates, Radius+ data shows.
The problem is that Atlanta's recent new supply came rushing in all at the same time, forcing year-over-year price cuts of 8 percent for non-climate-controlled units and 12 percent for climate-controlled units in May, according to Radius+ data.
Cory Sylvester, with Radius+ said "Atlanta may seem to be struggling, but it's fairing well compared to other hot major markets, such as Las Vegas and Orlando."
And with Atlanta's expected continued growth in population and jobs, the prospects still look bright for self-storage in the region, Sylvester said.
"I remain long-term bullish on Atlanta," he said.
Brooks Lumpkin, the owner of Southeast Storage in Atlanta, said self-storage developers and owners in the region just have to accept there's a cycle to the market: As Atlanta's population and self-storage demand rise, developers start building until prices start to deflate, then they retreat until prices stabilize, only to start building again.
"You have to assume that more supply will be coming at some point," said Lumpkin, whose company owns two facilities in the Atlanta area. "You have to be strategic when (you build or buy facilities) and just be prepared for new competition."
As of now, the Atlanta metropolitan area is expected to grow at an annual 2 percent to 3 percent rate, with each percentage point equaling about 70,000 people – and that means a lot more demand is on the way, assuming population and economic trends continue, said Lumpkin, a member of the Georgia Self-Storage Association's board of directors.
It will take a few more years to fill up the new supply of self-storage space that's come online in recent years in Atlanta, said Lumpkin. But the population and demand will also continue to grow – and once again create a need for more space in Atlanta, he stressed.
"I expect long-term positive growth," Lumpkin said. "It's an attractive industry in an attractive market."
Interested in receiving more Market Analysis Reports from TSAG?  Call our office and be connected with one of our advisors or click here to sign up.
---

The Storage Acquisition Group specializes in purchasing storage facilities and portfolios nationwide. Uniquely, we allow owners to sell direct without having to list their facility. With our 4-tiered approach, Market Analysis, Acquisitions, Underwriting, & Closing Support, The Storage Acquisition Group is able to help owners navigate a simple sales process while netting the highest possible profit.